For climate risk research and adaptation planning
The Walker Institute is the University of Reading's Interdisciplinary Climate Research Institute, and one of eight 'My Climate Risk' Regional Hubs under the World Climate Research Programme.
We carry out global interdisciplinary research, innovation and capacity building to advance knowledge and deliver a better understanding of future climate, its impacts, and consequences on people's lives.
Our vision is a world in which all people, organisations, meteorological agencies, and governments are better able to cope with the changing and often unpredictable demands of the climate and environment, turning challenges into opportunities.
Our focus is on Africa, Asia, and the Americas, but our knowledge, skills and approach are globally applicable.
As one of eight Regional Hubs appointed under the recently established World Climate Research Programme (WCRP) 'My Climate Risk' Lighthouse Activity.  Walker's interdisciplinary research focus, supporting the development of climate resilient societies aligns closely with the WCRP's 'My Climate Risk' Lighthouse Activity goals:
Fundamental understanding of the climate system
Prediction of the near-term evolution of the climate system
Long-term response of the climate system
Bridging climate science and society
Together with the Walker Institute and the other seven Regional Hubs across the world, the initiative aims to develop and mainstream a 'bottom-up' approach to regional climate risk, starting with the requirements of decision-makers.
Walker Institute - University of Reading
Climate Futures - Norwegian Research Centre (NORCE)
Himalayan University Consortium (ICIMOD)
Ateneo de Manila University
Australian Bureau of Meteorology
University of Cape Town
National Scientific and Technical Research Council
University of Manitoba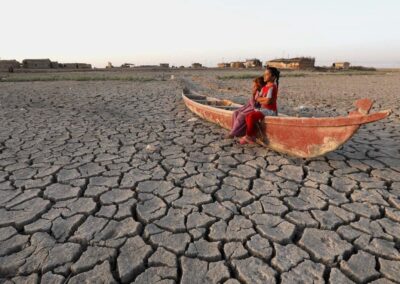 Supporting UNEP in the Production of Climate Change Scenarios and Risk Assessment for Iraq
A Global Network of Collaborators
The Walker Institute team is a talented group of experienced research scientists. But we know that there are specialists who have dedicated their life's work to developing a deep understanding of a specific topic or region. We also know that, for the people whose livelihoods we are trying to help protect, this
is
 their life's work and nobody understands it, and the local conditions that affect it, better than they do.
That's why the Walker Institute has formed a global community of research partners that includes not only specialist scientific and developmental organisations, but also the very people whose livelihoods we are all working to help strengthen.
Theo
"The work of the Walker Institute is really crucial and truly motivating. The fact that they have chosen not to stay in an ivory tower, but actually say, "What is it that people are asking for? What is it that people need", and then taking the steps to make sure that their knowledge and their work meets those demands, is an enormous step forward."
Theo Sowa
CEO, African Women's Development Fund
Charlotte
"I found the project to be very comprehensive, involving all relevant stakeholders, and bringing them together under one roof, which helped in understanding the mandates of the various institutions, academia, agencies and organisations regarding ground water.  It has given me a proper understanding of groundwater and the risks associated with it if proper policies and laws are not put in place and adhered to.  The country as a whole stands to gain a lot from the BRAVE project."
Charlotte Norman
Director: Climate Change Adaptation & Disaster Risk Reduction, Ghana (2020)
Gatkuoth
"The expert advice from the Walker's team was instrumental in shaping the discussion which culminated into the development of the inaugural Africa Report on Disaster Risk Reduction 2015-2018. Working with the Walker's team has been an enriching experience for me and my team. I am impressed by their level of professionalism and commitment to disaster risk management efforts in Africa."
Gatkuoth Kai Bol
Department for Rural Economy and Agriculture, African Union Commission, Addis Ababa, Ethiopia
Hannah & Hannah
"For the Lorna Young Foundation, partnering with the Walker Institute on the  BRAVE and NIMFRU projects has provided and invaluable opportunity to adapt out RFRMER's Voice Radio methodology to benefit climate vulnerable communities….  Thanks to the impact that we have achieved through these collaborations, the Lorna Young Foundation has been able to leverage further funding from donors such as UK Aid Direct to take Farmers' Voice Radio to the next level and launch it as an 'open source concept', potentially benefiting millions of smallholder farmers around the world.    
…working with the Walker Institute has been a great pleasure.  The team are extremely approachable, professional and highly responsive and adaptable….whilst also maintaining academic rigour to their research projects.  "
Hannah Clark and Hannah Davis
Famer Radio Development Managers, Lorna Young Foundation, UK