Our My Climate Risk research and linked Walker Academy capacity building activities draw on the break-through approach of a new World Climate Research Programme (WCRP) Lighthouse Activity, entitled 'My Climate Risk' (MCR). The title reflects the need to embed climate risk within its unique local and social context. The Walker Institute was one of the first of 12 regional MCR hubs to be established globally, and together we are going 'broader and deeper' in our work with local counterparts to assess risk and implement credible and effective climate actions.   This involves mainstreaming   a 'bottom-up' approach to regional climate risk, focusing on the information that local decision makers need to respond to the climate risk as it is impacting on their own communities. By 'risk' we mean the combination of hazard, vulnerability, and exposure specific to any given regional context.
This is a new approach that synthesises the cross-disciplinary insight and information needed to address the adaptation challenges of the climate emergency. It requires forward-looking analysis based on integrated data and evidence and is transforming the way in which natural and social scientists work alongside counterparts in the government, non-government and community sectors.
My Climate Risk will primarily use a case-study approach, in the form of 'labs' (or 'communities of practice') that provide dynamic, exploratory, transdisciplinary environments for research and innovation. The emerging communities of practice could take a variety of forms depending on local needs and interests.
To facilitate the desired 'bottom-up' approach, My Climate Risk is being implemented in a non-hierarchical way through an informal ecosystem of regional hubs. The Walker Institute in the University of Reading is one of the hubs: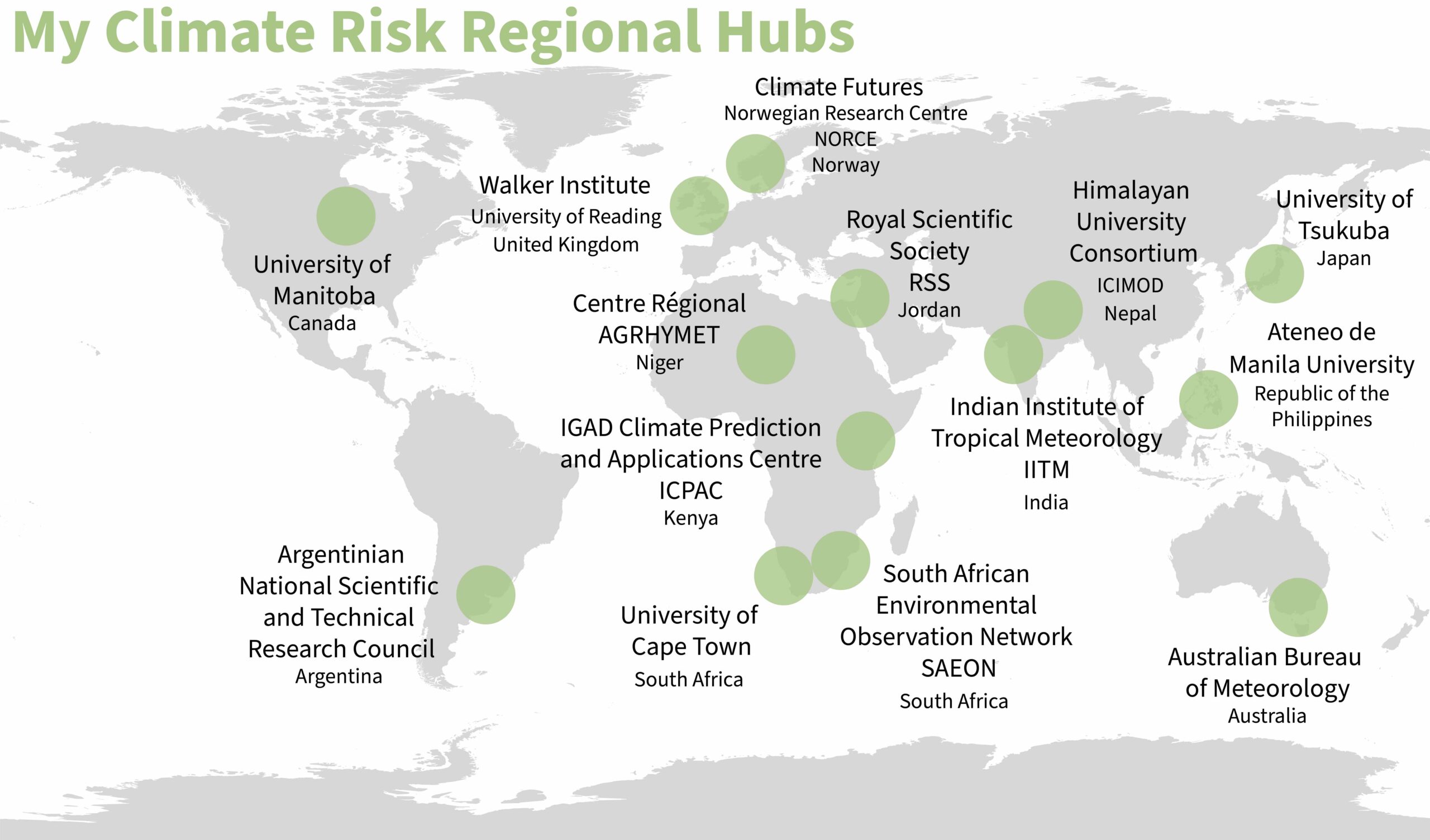 The existing hubs have in common the fact that they are all trying to develop a people-first,
decision-oriented approach to addressing climate risk at the local scale. Yet they differ in many ways. This diversity is a strength, and the hubs will learn from and support each other, even as they pursue their goals in their own different ways, appropriate to their local situations.
The Walker Institute is somewhat different from the other hubs in that its main focus is not so much local, but on the Global South. It is motivated by 'knowledge for people'. A recent example of this kind of work was an Organisation for Economic Co-operation and Development (OECD) study on sweet potato yields in East Africa. Another example, much closer to home, was a workshop on climate adaptation options for drought-vulnerable heritage sites (wetland ecology) in East England. The Walker Institute's goal is to shift the way climate information is produced, which requires long-term trusted partnerships, recognition of multi-stakeholder approaches, and clear pathways of influencing government policy. The driving force must come from stakeholders. Core principles are to learn before doing, and to avoid disrupting already fragile or underfunded institutions, which is especially important in the Global South. Thus, capability must be developed at a pace that can be sustained. The Walker Academy is the capacity building programme of the hub.
The Walker institute has completed and is running several projects connected to My Climate Risk:
The Walker Academy is also offering courses that reverberate the ideas of My Climate Risk:
The Walker Institute has welcomed the first students to participate in the new Climate Change and Artificial Intelligence (CCAI) Masters course.  It includes a complementary combination of disciplines – including from the Department of Meteorology, Department of Computer Science, the Walker Institute, and the triple-accredited Henley Business School. The Masters course is taking quite an interdisciplinary approach. Find out more about the MSc programme Climate Change and Artificial Intelligence.
More information on World Climate Research Programme (WCRP) and My Climate Risk Lighthouse Activity visit their website here.