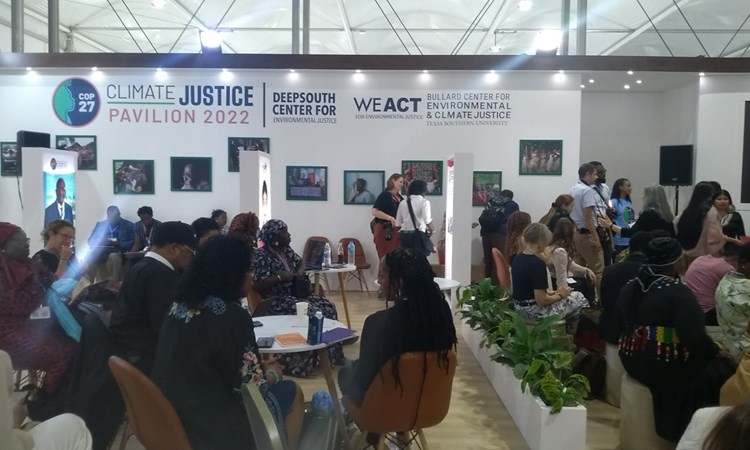 By Philippa Oppenheimer
As COP27 draws to a close, it's time to review the progress made and how we move forward from the conference. Parties have concluded negotiations on several technical documents such as the Paris Agreement Committee's report on implementation and compliance. Negotiations on the conference's meatiest topics such as climate mitigation, adaptation and finance are due to conclude this evening. In the critical hours ahead, Parties at the conference will agree on the climate actions they are willing to take, with developed countries most likely taking the lead on these decisions.
It could be argued that anthropogenic climate change is overly generalised. In reality, it is a crisis caused by developed countries who produce 60% of present-day carbon emissions, with the US being responsible for 20% of all post-industrial carbon emissions[1]. The geopolitical complexity of the climate situation is one that has resulted in this year's conference being dubbed as the 'African COP', as one of the continents most burdened with the consequences of climate change, and the epicentre of this year's diplomatic efforts.
Achieving the UN's sustainable development goals relies on the economic growth of under-developed countries. However, the blueprint we have for economic prosperity is one driven by a reliance on fossil fuels. With that in mind, some of the continent's leaders are exploring the idea of tapping into Africa's gas reserves, with the argument they should be allowed to develop and provide for their people just as the West has.
But investment in gas infrastructure in the continent would likely lock in the future use of gas and make the already acute issue of curtailing climate change even harder. Many of the world's most vulnerable are already being hit the hardest. As discussed at a COP27 side event, in Somalia, 41% of the population will have faced food insecurity or famine by the end of 2022 as a result of climate change induced draughts. Globally, 800 million people live in food insecurity or famine, with this number set to worsen with continued climate change[2].
It is unclear whether the push for gas in Africa is from a small minority with something to gain. As Africa's most vulnerable would be the first to face any impacts from further climate change, utilising this gas resource would be a backwards step. However, should Africa's development be held back by the simple fact that the global north got to their fossil fuel reserves first? It is crucial that developed countries focus on finding and delivering the funding opportunities which will enable Africa and other developing areas to harness clean energy as quickly as possible. Meanwhile, the Global North needs to work on dramatically reducing their own emissions. This is no easy task, but one which needs doing!
Whilst we wait for the final negotiations to end for another year, we can begin to turn our attention to COP 28 and Convention on Biological Diversity (CBD) COP 15. Dialogue must continue. As we have learnt from COP26, grandstanding politicians making ambitious promises do not always translate to meaningful action on the ground. We must continue to hold governments to account and elevate the voices of those less able to speak.
[1] Cumulative CO2 emissions globally by country 1750-2020 | Statista