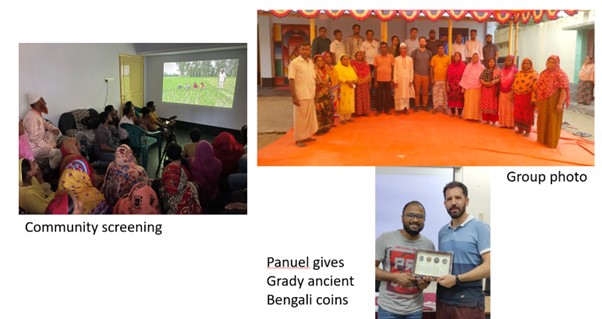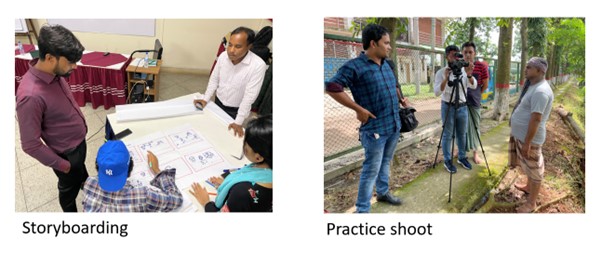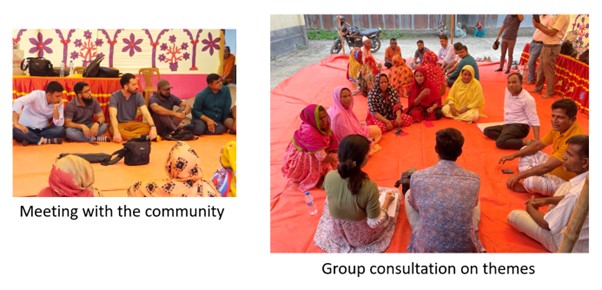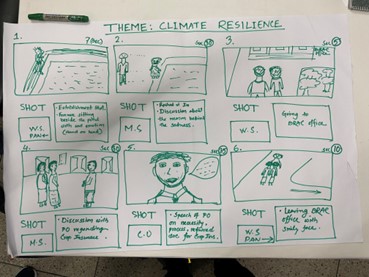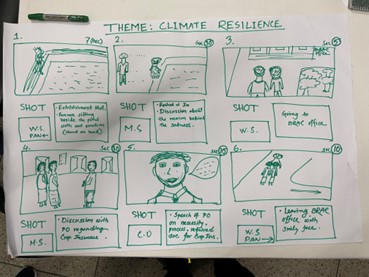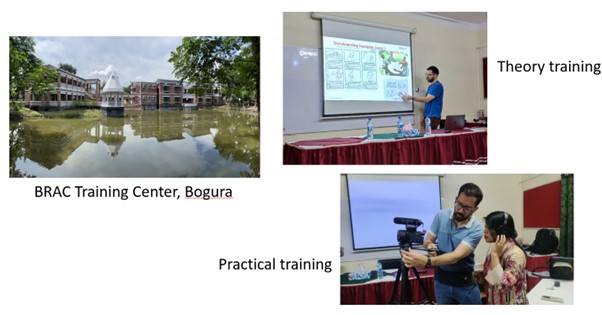 ---
Dr Grady Walker successfully facilitated a training in Bogura, Bangladesh, with Walker Institute partners from the Syngenta Foundation for Sustainable Agriculture and BRAC, an INGO headquartered in Dhaka. Eight partners participated in the core training entitled 'Community Centered Advocacy Using Participatory Visual Methods', which took place over four days in Bogura. Up to 30 community members also participated in the engagement day in the village. The purpose of the training was to support project partners in their horizontal and vertical advocacy work with stakeholders as they try to expand their weather-index-based crop insurance programme.
Introduction to participatory visual methods
Participatory visual methods involve the use and interpretation of photography, film, video, painting, drawing, collage, sculpture, artwork, graffiti, advertising, and cartoons in research, advocacy, and knowledge exchange. Visual methods are widely used in community development, international development, public health, and education. They are often used to overcome the illiteracy barrier. Visual storytelling allows people to tell stories about themselves, their families, and their communities, using their own local language, dialects, and humour.
Participatory visual methods as advocacy
Visual stories provide authenticity to communication messages. They are relatively simple to produce and can be disseminated rapidly and at low cost. Communities can articulate their points of view better than outsiders. A challenge is that facilitators must give up power and surrender some control of the message. This can be a limitation or barrier preventing the use of these methods in some contexts.
Lessons Learned from Research and Practice
If rural adaptation is to be effective, then it cannot take the form of prescriptive actions determined by outsiders and subsequently imposed upon rural communities. It is essential to avoid 'negative participation'. In other words, saying that people are able to participate, as long as they're doing what is asked of them or repeating back the messaging that's been crafted for them. A social justice framework should be built into projects at the outset. It is also important not to rely only on "on-script" messaging from stakeholders but rather to use methods that allow for "off-script" dialogue.
If storytelling is to be used as advocacy or to influence policy, then the storytellers must have ownership of the stories.
"We are happy to announce that we have successfully completed the training assignment on Community Centred Advocacy Using Participatory Visual Methods with BRAC and SFSA Bangladesh team. Thanks to Mr. Grady Walker for helping our teams reach new heights!"  Panuel Rozario, project manager for our partners Syngenta Foundation
"Thanks a lot for arranging such effective training. We have learned new things to add to and boost our activities. Wish for more pieces of training in the coming days. Gratitude to Grady Walker for the amazing training, tools (Camera and Tripod), and Certificates. Hope we will have another training on post-production if possible. EID GREETINGS."  Muhammad Tanjilur Rahman, training participant and project officer from BRAC