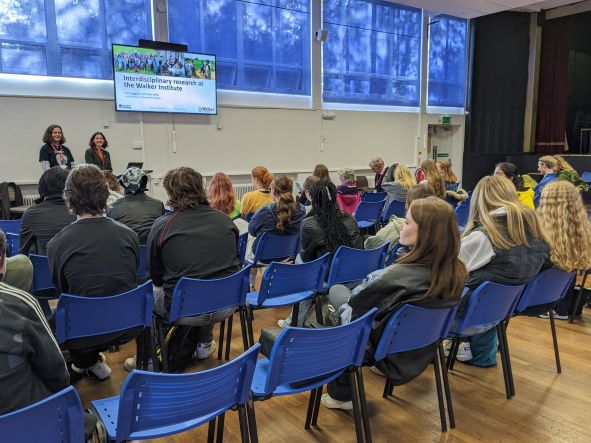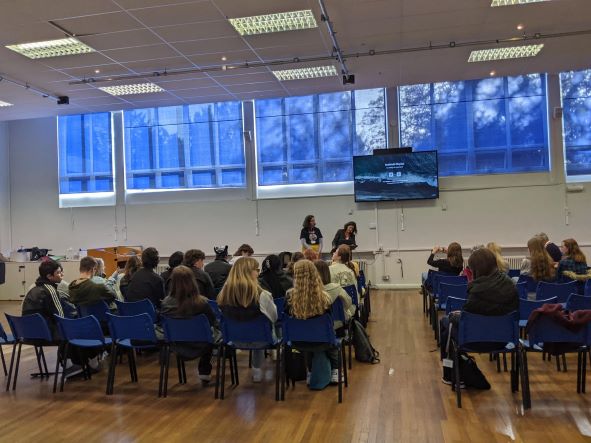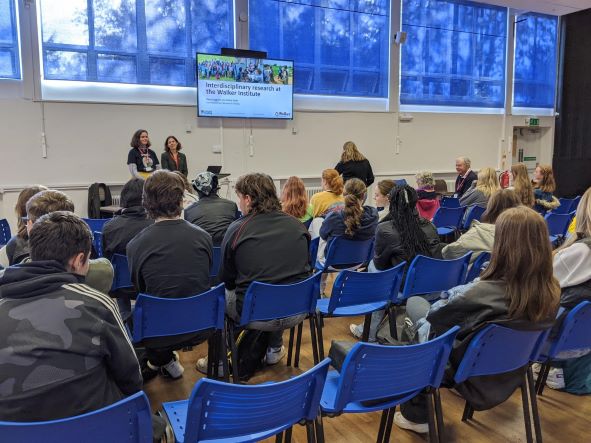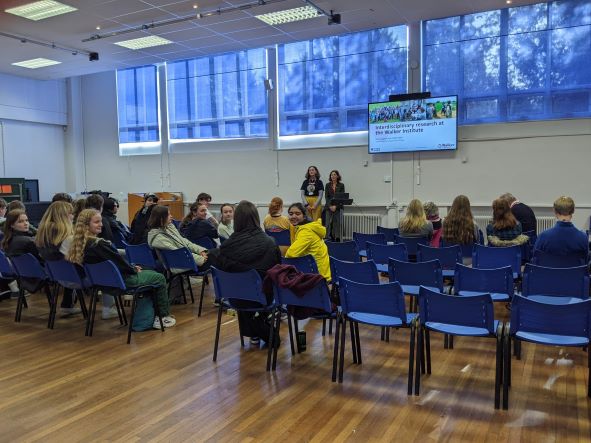 Climate Change Walker Institiute 1 resized
Climate Change Walker Institiute 2 resized
Climate Change Walker Institiute 3 resized
Climate Change Walker Institiute 4 resized
---
Dr Cathie Wells and PhD student Jessica Underwood were invited by Henley College to present the Walker Institute's work and their involvement in CoP27 to a group of Year 12 and 13 environmental science students, within the broader framework of climate change adaptation. Members of a local environmental group, Greener Henley, were also invited to participate.
What happened: 
Dr Wells gave an overview of the work of the Walker Institute, the global scope of our projects and the key team members. This was followed by a quick description of the career paths followed by two of the Walker Research Fellows.
Sources of uncertainty in climate projections were then debated, with reference to the initial scenarios used by climate modellers, representative concentration pathways and shared socio-economic pathways. Students were invited to explore the differences between climate models, looking at results of time minimal flight planning through wind fields provided by an ensemble of eight different models. This focus on uncertainty in climate projections led to more discussion of climate storylines, referring to Walker's recent UNEP work with Iraq and the use of infographics in illustrating projected climate. Moving back to a UK focus, a storyline based on previous projections for 2022 was shown to match many of the effects felt over the summer season, as recorded in various newspaper headlines. Audience members were then given the opportunity to discuss the relative importance of mitigation and adaptation and to think more about climate justice.
After this initial presentation, Jessica talked in depth about the CoP process and described her involvement with the CoP Climate Action Studio.
It was a fast-paced interactive session and many of the audience remained after the main talk to discuss the issues raised.
Outcomes 
Henley College are setting up an environmental group and the material presented provided further inspiration for this. Many questions after the talk revolved around what we can do as individuals to make a difference, so we hope that action was inspired by the presentation.