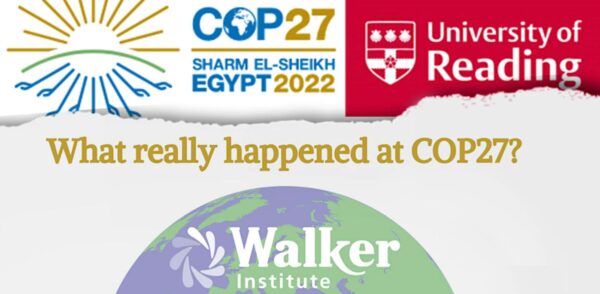 COP27 – Panel Discussion
Thursday 1st December 2022
14:30-16:00 Eastern European Time (EET) (UTC+2)
University of Reading, Whiteknights Campus
This annual event organised by the Walker Institute looked back on what made international headlines and what might have been missed during the conference. A panel of COP27 delegates, spanning our own University of Reading party as well as external participants, offered their own grounded perspectives of the successes (and failures) of COP27 in conversation with Peter Gibbs. The event provided an opportunity for the wider University community to review and assess the global climate conference and our next steps together towards achieving the Paris Climate Agreement.
Overview
The panellists represented a range of organisations and stakeholders:
Prof. Rosalind Cornforth, Opening note – Director of the Walker Institute
Peter Gibbs, Chair – Freelance meteorologist and broadcaster
Prof. Richard Betts – Head of Climate Impacts Research in the Met Office Hadley Centre and a Professor at the University of Exeter
Robert Muthami – Programme Coordinator at Friedrich-Ebert-Stiftung – Nairobi, Kenya
Dannielle Roche – PhD research student, FoodBioSystems Doctoral Training Partnership, COPCAS student
Dr Deepa Senapathi – Associate Professor at University of Reading; Ecologist
Clare Shakya – Climate change group director in International Institute for Environment and Development (IIED)
Dr Caroline Wainwright – Research Fellow at the Grantham Institute, Imperial College
Outcome
The discussion explored some of the strengths and failings of the COP process, and of the specifics of COP27. In particular, the outcomes around loss and damage were discussed and – despite the positive signalling that came out of COP 27 – there was some scepticism about how the loss and damage fund would be realised and in what time frame. The continued reluctance to confront the oil, gas and coal sectors was also highlighted as the Parties start to look ahead to COP28 in Dubai.
Following a welcome introduction and summary by Professor Rosalind Cornforth, closing remarks were given by Dominik Zaum, Pro-Vice Chancellor, Research and Innovation at University of Reading, who noted the importance of the University's engagement at COP and noted the value of involvement in the process into the future.
---