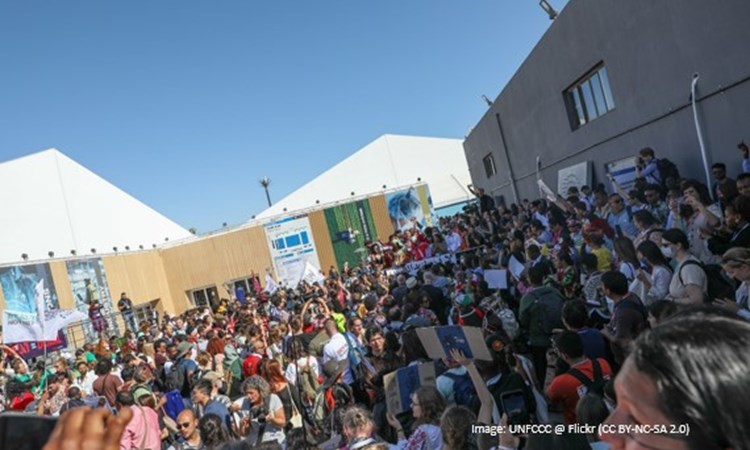 By Alex Moores, Fiona Spuler, Catherine Toolan, and Thea Stevens
Yesterday was Action for Climate Empowerment (ACE) and Civil Society Day at COP27 and accordingly, we heard from several speakers who shared their view of what makes for effective civil climate action within the sphere of international climate negotiations, and outside of it in wider society.
The UNFCCC produced an ACE framework, which encourages climate change education and public awareness, training, public participation, public access to information, and international cooperation. The document states, "Implementation of all six ACE elements is crucial to the global response to climate change. Everyone, including and perhaps especially the young, must understand and participate in the transition to a low-emission, climate-resilient world".
We spoke with Robert Muthami, a Kenyan climate expert and negotiator, as well as head of the Friedrich Ebert Foundation that funds and coordinate civil society activities in Kenya. Listening to his views on public participation within the sphere of the COP international climate conferences, he appeared to bridge the divide between two rival parties at the COP events: the voices of civil society hosted mainly at the pavilions and smaller side-panel events, and the other key aspect of the COP series of conferences – the climate negotiations themselves.
Some 60% to 70% of people attending COP are not connected with the negotiations themselves, but to side events where they can promote their ideas and share knowledge, perspectives, and best practices. But are the ideas discussed at side events heard in the negotiation rooms, and is this even the point?
Robert is doubtful of whether the voices of civil society are truly feeding into the negotiation process. And this is perhaps also true in the wider world outside of the COP events. He said that, "As a civil society, we are called to hold governments and leaders accountable through engaging with the democratic and political processes, but it is difficult to see for us whether this is actually the case."
Robert's experience at COP might illustrate the point: He tells us that on one of the previous days, he was due to talk at a panel at 11:00. Navigating through the cornucopia of climate discourse, through the multitude of pavilions, actors, and activities from civil society; through a chorus of voices all sharing their perspectives, knowledge, insights, Robert ended up 20 minutes late. He had no choice but to deliver his message without knowing how the discussion had been framed or what statements his co-panelists had already made.
In some ways, we are all lost in the maze of the climate crisis. As a collective we are all late to the movement, now too forced to think on our feet. How can civil society be expected to hold onto any hope for or shape meaningful change considering this? And yet, limited as each of us we are – in the information we have access to, limited in our abilities to process and synthesise this knowledge, and limited in our power to enact change – like Robert and the innumerable voices of civil society at COP and throughout the world, we all must do what we can. This is where the power of organising as a civil society lies.
===
For more reflections on the power of civil action on Civil Society and ACE Day, read part two of this blog series on climate empowerment here… [to be uploaded]
You can also listen to an interview with Robert Muthami on the three key priorities for COP27 here:  GreenZone videocast: Robert Muthami "Africa has three key priorities for COP27"