Friday, November 26, 2021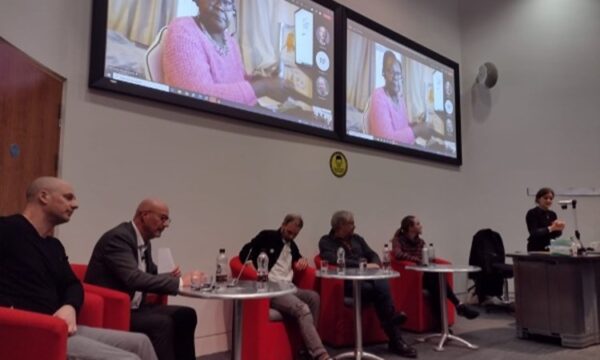 On screen: Dr Aida Opoku-Mensah, Walker Institute Board member and former Chief of Staff at United Nations Economic Commission for Africa.  Left to right: Jimmy Cockerton, Microsoft UK, Business Strategy Manager; Peter Gibbs, Walker Institute Board Chair (panel chair); Dr Alberto Arribas, Microsoft Corp, Sustainability Science Lead for Europe; Professor Ted Shepherd, Grantham Professor of Climate Science, University of Reading; Jo Herschan, COP Climate Action Studio and SCENARIO DTP PhD Student; Professor Rosalind Cornforth, Walker Institute Director.
One of the big takeaways from COP26 was a clear increase in positive engagement from the private sector. There's growing potential to accelerate progress towards climate goals with smart public/private partnerships: building on each other's strengths to efficiently translate the science through to solutions on the ground.
To that end, on 24 November we were proud to launch the Walker Institute's ground-breaking new collaboration with Microsoft which aims to enable a climate-resilient society capable of adapting to an uncertain, changing world. Paul Inman, the University's International Pro-Vice Chancellor, opened the event.
More than 100 people joined us in person or online for a panel discussion reflecting critically on the outcomes of COP26 and how technology can play a crucial role in their implementation. Our panelists brought perspectives from academia, tech business, the African continent and the younger generation.  They reflected on their experiences of COP26 and tackled the following questions from the audience:
Q: Do we have to 'make a deal with the devil' to work with the private sector to resolve the climate crisis?
Q: How do we avoid 'greenwash' and ensure private sector is held to account?
Q: How can Microsoft UK help resolve the challenge of a lack of baseline data to measure Sustainable Development goals?
Q: What is the role of Artificial Intelligence (AI) in climate change adaptation and mitigation?
Reflections on the collaboration potential:
"Walker Institute's mission is to enable the development of climate-resilient societies: societies able to adapt in an uncertain, changing world. Our contribution to a new knowledge base is key, ensuring that climate-resilience is better understood and can be attained. We make a meaningful difference in peoples' lives: conducting risk-taking, innovative and novel research to tackle the complexity of the global challenges facing society. This support from Microsoft lets us grow our research base, giving us more information and allowing us to answer critical questions more effectively and more efficiently"
Professor Rosalind Cornforth, Walker Institute Director
"Sustainability at Microsoft is about helping us, and helping others, to reduce carbon emissions and protect biodiversity. A key way we do this is working with leaders in the fields of weather, climate, prediction and risk. We are delighted to be building the capacity of the Walker Institute to do more of what they do best, and look forward to a long and fruitful relationship with both the Walker Institute and the University of Reading".
Alberto Arribas Herranz, Microsoft Sustainability Science Lead for Europe
The event closed with a screening of the winning 'my experience of COP26' film made by Jessica Underwood, in which she shares her perspectives on COP and the Walker Institute COP Climate Action Studio initiative in which she took part.  You can watch the film here: