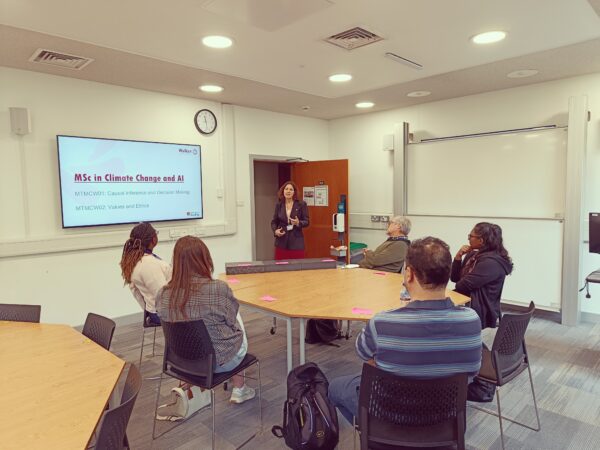 Dr Cathie Wells, Prof. Ted Shepherd and the 2022 cohort of MSc CCAI students.
The new MSc in Climate Change and Artificial Intelligence (AI) is underway, with Walker Institute staff delivering modules to the first cohort. It is exciting to be part of this ground-breaking new collaboration between the Walker Institute, the Computing and Meteorology Departments at the University of Reading and Henley Business School, aiming to improve understanding of what lies behind the new methods for climate analysis made available by through technology.
Two of Walker Institute's Research Fellows, Cathie Wells and Elena Saggioro, are delivering lectures on casual networks for the course. Through these, students are being introduced to real-world projects that have benefitted from a casual networks approach, before consolidating their understanding of the probability and statistics at the foundation of the method. Students have started to construct some basic networks and are discovering the importance of recognising natural stratification in data, via Simpson's Paradox.
An example of this is: Just how could Italy's Covid death rate at the start of the pandemic have been higher on average than China's if for each separate age group, China's statistics were worse?
Each lecture is followed by a two-hour seminar, allowing plenty of time for discussion, often leading to lively debate! Both Cathie and Elena have found working with the group a real pleasure, given their enthusiasm for the material and their desire to understand the concept of causal networks so thoroughly. The next few weeks of the course will prepare the students to create their own causal networks so that they can experiment with how adaptation measures could help to reduce climate risks.
Another Walker colleague, Research Fellow Harley Pope, is looking forward to his contributions to this cutting-edge course. Harley will be focused on a new module: Climate Change: Values, Ethics and Justice.
Climate change affects people and environments to different degrees. The disparities between who is responsible for climate change, who bears its greater impacts, and how collective duties to act on it should be shared, is hotly contested during international climate negotiations. The themes of equality and justice can be seen running through many discussions around climate policy. How do people working on climate change issues make sure that the ways in which they structure their thinking around problems, and design solutions, are also equitable and just?
In this new module, students will explore the potential of AI to address a range of issues concerning climate change, such as forecasting, mitigation and adaptation, while considering what this means in practice for the climate, environment, and communities around the world. Each week they will hear from a different voice and perspective, articulating what climate change and justice means in different global contexts. One week it may be about international law and climate negotiations. The next: climate change adaptation and indigenous knowledge in North East India, or the role of protest movements as a means of leveraging policy change. After each lecture, students will unpack and refine their understanding of the different topics through discussion. In the latter half of the term, students will engage in group work to explore a range of stakeholder perspectives on climate justice through targeted interviews with Walker Institute partners. The module will help students develop a holistic picture of what climate justice means in different contexts, and how it can be applied within their work on AI.