---
Written by Lamin Dibba
MSc Agriculture and Development student at the Graduate Institute of International Development Agriculture and Economics (GIIDAE), a 2022/2023 Chevening Scholar at the University of Reading, and a member of the International Association of Students in Agriculture and related Sciences (IAAS)
The 58th sessions of the Subsidiary Body for Scientific and Technological Advice (SBSTA) and the Subsidiary Body for Implementation (SBI) of the United Nations Framework Convention on Climate Change (UNFCCC) took place at the World Conference Center in Bonn, Germany, from the 5th to the 15th of June 2023. The goal of this meeting was to build on the mandates that emerged from COP 27 in Egypt, in a bid to pave the way for a successful COP 28 later this year in the United Arab Emirates. Issues of critical importance discussed included the Global Stocktake (GST), Global Goal on Adaptation (GGA), Just Transition, Loss and Damage and the Mitigation Work Programme. Via the International Associations of Students in Agriculture and Related Sciences (IAAS), a partner of the official Youth Constituency of the UNFCCC (YOUNGO), I had the opportunity to observe and follow negotiations on agriculture, food systems, and climate financing across the globe.  Several organizations joined forces courtesy of YOUNGO, the official youth constituency at SB and COP events, to represent the voices of billions of youths and children around the globe. This allowed me to share my own experiences of youth-led Climate Change mitigation and adaptation strategies in Gambia.
Day 1 – Plenary session at the opening ceremony of SB-58
SB58 kicked off in Bonn, inspiring a wave of hope for climate justice and empowerment for the youth. Young people around the world shared their expectations with global leaders and key institutions at the opening session, emphasizing the disproportionate effect of the climate crisis on marginalized communities and the need for an accelerated phasing out of fossil fuel extraction, production, and consumption. They also advocated for policies that prioritize renewable energy investments, green jobs creation, and the protection of vulnerable communities affected by the fossil fuel industry.
In referring to the Sharm el-Sheikh implementation plans, 'Paragraph 55', they reminded those assembled of the need to integratee meaningful youth participation in negotiations. With unwavering determination, young people called for action, urging governments and corporations to acknowledge and pay for the losses and damages caused by environmental destruction.
Day 2 – Bilateral meetings, Roundtable discussions, and Workshops at SB58
The Official Youth Constituency of the UNFCCC (YOUNGO) took part in several bilateral meetings, roundtable discussions and workshops. One side event co-organized by YOUNGO included the theme of 'Just transition', involving comprehensive stakeholder engagement, as a cross-cutting dimension of climate action.
At the first bilateral meeting of this year's Subsidiary Body, YOUNGO presented its five key requests, underscoring the significance of accountability, accessibility, youth inclusion in party delegations, access to funding and capacity building.   Formal recognition of the Global Youth Statement (GYS) and youth policy proposals were also sought. The overarching sentiment echoed throughout this session was: while words may inspire, it is actions that bring about tangible change.
Similarly, during the bilateral meeting with the World Business Council on Sustainable Development, YOUNGO shared thoughts on making corporations accountable for Green House Gas (GHG) emissions worldwide. Participants described the significance of including a mitigation work programme on the SB58 agenda, citing that if excluded, this will undermine the transformative ambitions of COP28 later this year.
There followed both a bilateral meeting with the European Union, in which YOUNGO called for human rights, food security, conservation and conflict emissions to be priority topics and a roundtable discussion on the "Means of Implementation", emphasizing the need for investment in sustainable infrastructure and clean energy. In the latter event Mara Ghilen represented the views of the world's children in advocating a renewed effort to meet the Paris agreement's target of limiting temperature rise to 1.5 degrees.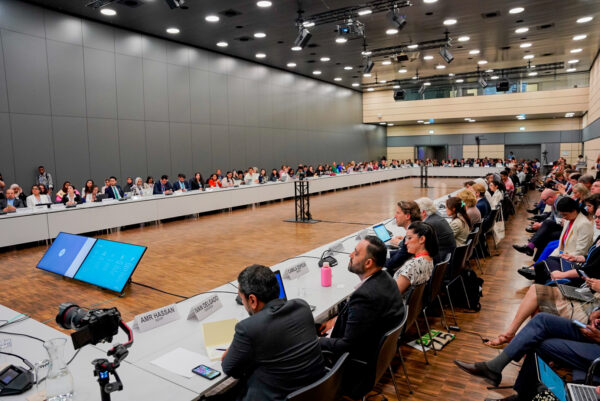 Day 3 – Bilateral meetings, Roundtable discussions, and Workshops continues
At the start of Day 3, YOUNGO welcomed the establishment of the 'Just Transition Work Programme', but their representative, Marco Collado Ramirez, called for the inclusion of education, social dialogue and training within the statement of this project.  Other members of YOUNGO demanded clear recommendations in the forthcoming GST report on nature-based solutions, gender justice, just transitions, loss and damage funding, a coordinated plan for adaptation and mitigation and a global cessation of fossil fuel exploration.
The Global Stocktake coordination group convened a meeting, with leadership from the NDCs working group, aiming to foster collaboration and facilitate effective monitoring of global stock levels. Youth discussed strategies to enhance coordination among nations, ensuring comprehensive data collection and analysis.
In the afternoon of Day 4, party delegates, observers and youth from different countries converged outside of the World Conference Center building in Bonn, showcasing a peaceful demonstration demanding implementation of a clear plan for loss and damage funds.
Day 4 –  Youth Leadership Driving Adaptation Action
This event focused largely on the central role of youth in adaptation and highlighted key achievements of the youth adaptation movement. The Global Center on Adaptation (GCA), an organization working on youth leadership, education, and capacity building, labels youth voices as pivotal in shaping the Global Goal on Adaptation (GGA) and the Global Stocktake (GST) negotiations, suggesting that their ideas and recommendations should be considered. Language barriers were recognized as posing a great challenge to effective communication and outcome-sharing amongst the youth. The GCA recommends that technical jargon is translated and information shared in local languages. Alongside this change, other recommended measures included  the provision of stronger linkage between local initiatives , increased capacity building for young people, provision of more opportunities for engagement, access to finance and investment and   support from governments for youth involvement. It was emphasized that youth should be involved in decision-making processes and funding should be directed to youth-led initiatives.
Day 5 – Consultation with Governments and Young People on National Adaptation Plans (NAPs) and Policies 
The event aimed to gather insights and engage in dialogue using the World Café methodology. It involved various stakeholders, including governments, civil society organizations, and practitioners, along with young participants. Two key speakers, Gabriel Kpaka from the UNFCCC Least Developed Countries Expert Group and Niccolo Delporto from the GCA, shared their perspectives and addressed questions from the attendees.
Key insights from Gabriel Kpaka's address included the importance of NAPs in preparing countries for climate change impacts, the role of the LDC Expert Group in advising countries on the inclusion of relevant elements in their NAPs and the need for youth involvement in a bottom-up approach to maximize adaptation efforts through top level collaboration with government. Niccolo Delporto re-echoed the significance of youth knowledge and experiences in shaping guidelines for youth engagement and emphasised the challenges related to policies, actions and good practices in adaptation. To overcome barriers in youth awareness of these issues, it was suggested that accessible information and toolkits be provided, via social media, thus fostering collaboration with indigenous communities, while improving visibility for community action and simplifying technical language and procedures.