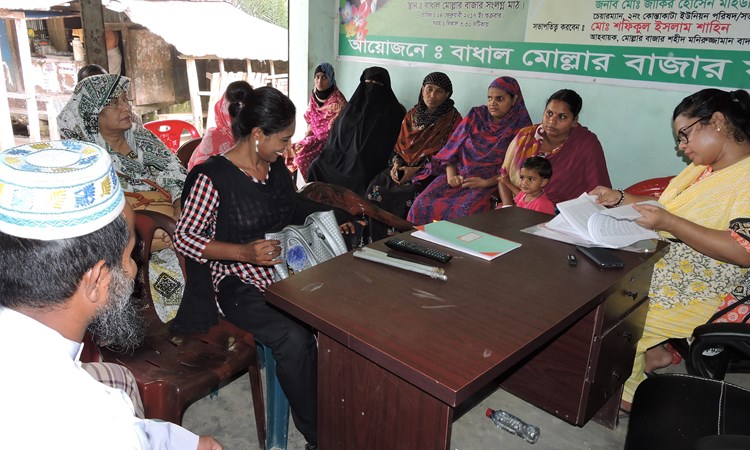 By Shahrina Rahman and Chris Pesso
"Too few women are participating in COP27 climate negotiations, charities, activists and politicians have warned". (Esme Stallard, BBC News Climate and Science).
The UN Framework Convention on Climate Change (UNFCC) agreed to a 'Gender Action Plan' for women's full, equal, and meaningful participation in the delegation, policy, and decision-making in 2012. Many countries have integrated gender across the development sector, in decision making and climate action. However, we need women of all diversity involved at all levels, especially from the regions where frequent disasters are hit hard by the consequences of climate change. Communities need to use their resource effectively to better prepare for disaster and to mitigate disaster vulnerability. Therefore, the approaches and activities then need capacity building by paying attention to inclusivity to address social and economic issues.
In the global south, women are responsible for the household, including energy, food, water, and care for their family. However, they have less capacity for disaster response and recovery from natural disasters due to restricted access and rights to ownership and financial resources. At the same time, they are less likely to participate in the critical political and administrative decision-making process to respond to climate change. The former Irish president Mary Robinson headlined in a COP27 panel decision to mark international 'Gender Day' to support grassroots women in tackling climate change and building resilience. In added support, the panellist Kariuki said,
"We are committing $100 million in loans to public and private sector projects to address gender and climate issues,".
He added, "The Bank is also developing an adaptation mechanism to enable individuals and groups, including women and youth, to borrow money for climate adaptation projects,"
The imbalance of gender-power in climate finances has been prevalent over the past decades. The lack of gender-smart and inclusive individuals at the decision-making table has led us, as a global civilisation, to consistently fail in achieving our climate goals. Only now, at COP27, do we see steps taken towards gender neutrality. Ambroise Fayolle (VP, European Investment Bank EIB) mentioned that "When women are running companies, the results are better".  To lay a stronger foundation to his words, EIB has invested approximately € 2 billion in SheInvest, a project which focuses on empowering female-led businesses and climate finances, and plans on increasing this by two-fold with plans to expand this project in Asia.
The climate crisis is also a social crisis and it's about time that these social inequalities are addressed. Monica Scatasta (Director of the CEB's Technical Assessment and Monitoring Directorate) pointed out that the Sharm El-Sheikh Adaptation Report does not consider social inclusion as an important factor. She calls for countries to invest more in social inclusion within the climate crisis.
In Egypt, the National Council for Women (NCW) has set up the Village Saving and Loan Association (VSLA), where mandatory weekly meetings are conducted for women in rural villages. The VSLA aims to introduce projects with micro solutions as well as new technology.
There is also disparity in 'technology transfer' between the developed world and the developing and underdeveloped world. If the west demands things its way, it should learn to share new technologies with other nations so as to achieve the 1.50C goal. It is time for the financially comfortable nations who constantly demand change from the underdeveloped nations to start fulfilling their financial commitments.
However, during COP27 in Sharm El-Sheikh under the theme, Gender Sensitive and climate finances mechanisms, Robinson also said: "There is a problem about the visibility, transparency and accountability, and although there is some money floating around, we don't have a properly dedicated climate fund or a permanent climate fund to support women entrepreneurs in combating climate change."