Dear Colleagues,

Welcome to the Walker Update, bringing you up to speed with the latest developments from the Walker Institute and the wider climate science field. We've been busy with projects, building collaborative relationships and communicating our research – read on to find out more!

Tackling climate risks to the historic environment. Alongside

Historic England, the National Trust. and the Climate Heritage Network, we held a 'Cultural Heritage: Climate Hazards, Risks and Adaptation Roundtable' from 19-20 May.  Drawing on excellent representation across the environment, climate and heritage sector, we started to develop a methodological framework to understand how to build climate resilience into management decisions for historic environments.  Vice Chancellor Robert Van de Noort addressed the workshop and contributed archaeological expertise. We will keep you posted as this important work develops. More on our blog here.

Walker takes interactive theatre to UNDRR's Global Platform for Disaster Risk Reduction, Bali Indonesia.  Pen Cabot, Walker Business Development Director led our interactive theatre initiative at the May 2022 event and met with stakeholders and partners from across the world. The GPDRR convenes to address multi-hazard early warning systems (MHEWS) and early action, with the 2022 session focusing on, 'From Risk to Resilience: Towards Sustainable Development for All in a COVID-19 Transformed World'. More on our blog here.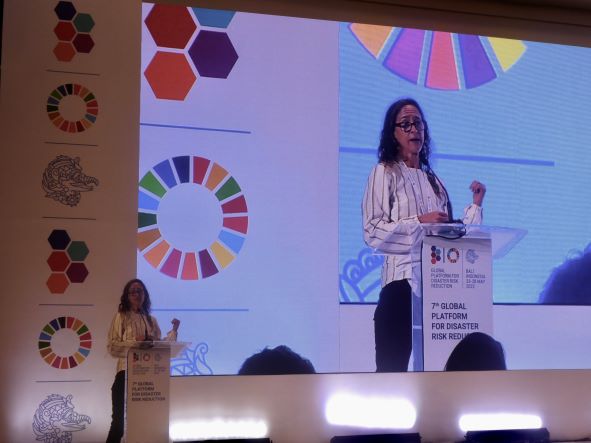 Pen Cabot, larger then life, presenting in Bali
Online Meteorology and Climate courses now available from the University of Reading:
Climate Intelligence: Using Climate Data to Improve Business Decision-Making aimed at business professionals tasked with evaluating their organisation's exposure to climate-related risks launches 25 July.  Details and sign up here.
For professional meteorologists, consultants, STEM students, graduates, academics seeking to improve their range of skills and knowledge and keen amateurs:
Fundamentals of Meteorology;
Statistics for Weather and Climate Science;
Tropical Meteorology and;
Climate Services and Climate Impact Modelling
Competitive 80% scholarships available for people from low income countries. Details here or contact: onlinemetcourses@reading.ac.uk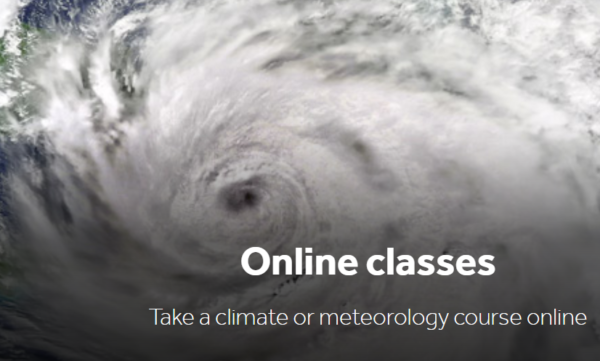 See climate change through a young person's eyes. Flexible four hour online course exploring how climate change affects different aspects of our lives developed by University of Reading students.  The free course –

Planet Partners: Tackling the Climate Crisis Together – has been designed for 16 to 18-year-olds, but is open to anyone who wants to learn more about climate change impacts, and actions they can take.

Community led approaches to flood disaster risk reduction. On our blog

here, Walker Researcher Faith Mitheu explains our work on community led approaches to improve early warning systems (EWS) and anticipatory actions to support vulnerable communities in data scarce regions. This is in solidarity with the United Nations recent declaration of ensuring all people are protected by EWS.

Been feeling hot?  As the UK experiences a heat wave, award-winning Walker researcher Chloe Brimicombe has written a timely article for the Conversation

here bringing together scientific advice on how to stay cool. You can also read about Chloe's research and the importance of seasonal forecasting in predicting extreme heat events here in her guest post for the Carbon Brief website, which covers the latest developments in climate science, climate and energy policy.
What happened across the world this week?
Please click on this link to access the Global Hazards Weekly Bulletin produced by Prof Virginia Murray and her team at PHE, and archived by Prof Richard Allan. It contains a weekly summary of global hazards, including recent developments of the COVID-19 Pandemic. The previous bulletin can be foundhere.All the best!

The Walker Institute Team